Inyo's Economical Steel Pool.
48" or 52" deep
6" Toprail and 6" Verticals
Sandman Pump & Sand Filter
Blue Overlap Liner
Skimmer & Inlet Fittings
Texture-Koting
15-Year Warranty
Available in round and oval sizes
Buttresses on ovals
Click here for full Belize Description
View our Pool Comparison Chart
What do you get when you buy an above ground pool from INYOpools.com?
Extra long warranties 15, 25, 30, and 60 years.
Trained technicians on staff to help you choose the proper pool.
Huge selection liners & equipment packages, we will customize a package to suit your individual needs.
Rock bottom prices
Fast customer service response
A trusted member of the Better Business Bureau
Safe & secure shopping cart.
Experienced company with over 100,000 pool products sold since 2001.
No sales tax except in Florida
Belize Above Ground Pool Packages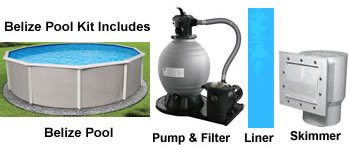 THE QUALITY OF OUR ECONOMICAL 6" TOPRAIL POOL SURPASSES THAT OF POOLS COSTING HUNDREDS OF DOLLARS MORE!
HIGH QUALITY 6" STEEL POOL AT THIS GREAT PRICE!
The Belize™ will give you and your family many years of fun in the sun. Manufactured by a leading above ground pool company, Belize™ combines excellent quality with a very affordable price.

RUGGED CONSTRUCTION. Our durable 6" top rails and uprights provide the heavy duty structure for many years of family fun. Deluxe resin seat covers give Belize™ a sleek modern look.

STAR GALFIN GALVANIZATION PROTECTION. All steel parts of the Belize™ are protected by the Star Galfin® process. A proprietary combination of zinc and aluminum coats all steel parts to give them superior corrosion resistance when compared to other similarly priced pools. Belize™ will not chip, fade, rust or peel and is designed to look as good ten years from now as it does today.

INSTALLATION. Belize™ is so easy to install that it is set up for the do-it-yourselves. A comprehensive installation manual is included with each pool. Invest in a high quality Belize™ pool this summer – at this great price. Hurry. Supplies are limited!
The Belize™ is backed by a 15 YEAR LIMITED WARRANTY. Available in 48" and 52" depths and a variety of rounds and ovals to fit your backyard.