Inyo's All Resin Pool.
52" deep
9" Aluminum Toprail
Aluminum Verticals
Waterway Pump & Sand Filter
Boulder Swirl Unibead Liner
Skimmer & Inlet Fittings
Texture-Koting
Lifetime Warranty
Available in round and oval sizes
Buttress Free on ovals
Click for full Trinidad Pool Description
View our Pool Comparison Chart

52" Trindad LX Pool Kits
What do you get when you buy an above ground pool from INYOpools.com?
Extra long warranties 15, 25, 30, and 60 years.
Trained technicians on staff to help you choose the proper pool.
Huge selection liners & equipment packages, we will customize a package to suit your individual needs.
Rock bottom prices
Fast customer service response
A trusted member of the Better Business Bureau
Safe & secure shopping cart.
Experienced company with over 200,000 pool products sold since 2001.
No sales tax except in Florida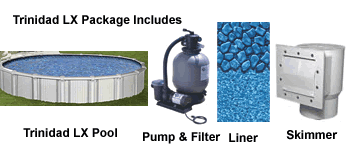 Trinidad Aluminum Above Ground Pool - 9 Inch Top Rail
Why Choose an Aluminum Above Ground Pool?
Aluminum's atomic structure make it resistant to rust and corrosion, which means it can stand up to soil, minerals, moisture and chemicals. Aluminum has incredible strength, pound for pound aluminum is twice as strong as steel, and even stronger compared to resin. When it comes to retaining the pressure of thousands of pounds of water, aluminum is always the up to the challenge. Since aluminum has such incredible strength, it is our only type of pool which can support semi-inground installation!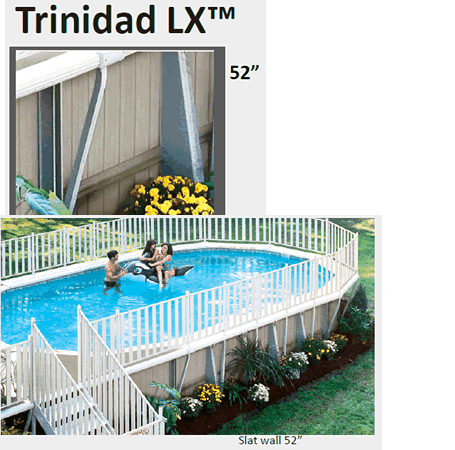 Features:
9" aluminum top ledge
Aluminum uprights
Aluminum bottom rail
Buttress Free on oval pools
Supports Semi-inground installation
State-of-the art all-weather protection
Durable wall coating for long lasting appearance and structural support
Specifications:
Model: Trinidad LX
Depth: 52"
Buttresses: Buttress Free on Ovals
Wall Construction: Aluminum
Top Ledge Width: 9" Aluminum
Uprights: Aluminum
Warranty: Lifetime / 5 Years Full
Pump & Filter Specifications:
Filter: Waterway Sand Filter
Filter Valve: Top Mount Valve
Pump: Waterway Pump
Voltage: 115 Volt
Cord: 6 Ft. 3 Prong Plug
Warranty: 1 Year Limited
Liner Specifications:
20 Gauge Liner
Boulder Swirl Pattern
15-Year Warranty
Unibead Liner