Misting Systems for Residential and Commercial Applications

Aero Mist misting systems are easy to install, high-pressure, commercial grade cooling systems. Whether it's a patio misting system, a commercial fog system, fog effect or water feature, Aero Mist misting systems and fog systems are a do-it-yourselfer's dream come true.

How does mist cooling work? Misting systems work by evaporating fine water droplets into the air surrounding target areas that require cooling. A properly installed mist system creates a curtain of mist around all open-air sides of a structure. Mist cooling can reduce temperatures by as much as 30°F depending on the efficiency of the misting system, relative humidity, and outdoor temperature. Mist cooling allows the use and enjoyment of outdoor living areas that normally would not be used when temperatures begin to rise.
Applications:

Patios & Pools
Enjoy your patio all summer long with an Aero Mist patio misting system . Outdoor misting systems work by pressurizing water and forcing it through small opening in a specially designed mist nozzle to create fine water droplets. As the mist evaporates, it produces a cooling affect up to 30 degrees Fahrenheit. A properly installed mist system creates a curtain of mist around open-air sides of your patio or gazebo. Stay cool as you entertain your friends and family in your outdoor areas. Aero Mist offers a complete range of high-pressure misting accessories for creating effects in various applications, both commercial and residential. Choose from an installed patio misting system, pool/water fog effects, or portable misting towers and fans designed to make your backyard comfortable and aesthetically pleasing. Aero Mist offers customizable designs and solutions such as powder coated stainless steel mist lines to match your home's exterior. Our Portable Mist Tower is designed to cool specific areas and our fog kits give your landscaping and water feature a truly unique look.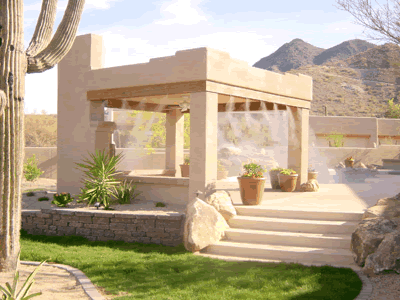 Restaurants / Resorts & Bars
Misting systems are a must during warm weather to keep your patrons cool. Aero Mist offers portable or mounted misting fans or permanently installed misting lines to cool any outdoor area. Patio misting systems from Aero Mist offer a comfortable and inviting dining experience. Guests don't have to suffer in the heat when seated in outdoor patios and can enjoy their meal with family and friends in a cool environment. While patrons, waiting outside to be seated, can stay cool with the ideal misting fans . Misting systems keep your customers cool near the courts, at the snack bar and even relaxing by the pool. Aero Mist high pressure misting systems create tiny droplets of water that flash evaporative to cool outdoor areas without wetness. Aero Mist utilizes a full line of commercial grade pumps and materials that stand up to the rigorous demands of everyday use. Only top quality parts our used in our products.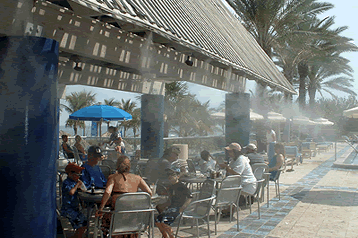 Animals
Aero Mist offers a wide variety of cooling solutions to solve the problem of keeping animals cool during the hot summer months. The dangers of heat may put livestock at risk of heat stroke and cause lower productivity putting your investment at risk. Use easy to install pre-fabricated stainless steel misting kits or misting fans in locations where high temperatures can cause health problems to animals. Aero Mist animal misting systems also aid in the reduction of dust. Our mist system is the viable alternative to other forms of expensive air conditioning. Heat stress also poses a significant threat to your pets. Extremely high temperatures do not allow pets to shed body heat. Aero Mist solves the heat stress problem by lowering temperatures in yards, kennels and pens. Create the optimal environment and keep animals safe with our installed misting systems or Portable Misting Tower.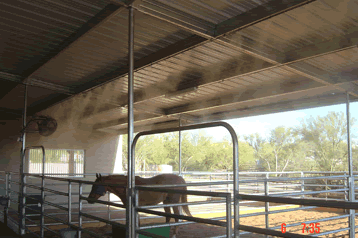 Greenhouses
Aero Mist misting and fogging systems are essential in maintaining ideal moisture conditions suitable for greenhouse productivity. Our high quality, consumer friendly misting and fogging systems provide a constant, stable environment year round. In addition, Aero Mist systems help to reduce plant shock and make a positive impact on plant health, productivity and profitability. Changing climates present a challenge in a greenhouse. Some plant species need a stable environment for optimal growth. Installing and using our misting system in greenhouses allows plant growers to create the ideal conditions for propagation by humidifying the environment and reducing temperatures during the summer by as much as 25 degrees. Benefit by using an Aero Mist greenhouse misting system and reduce energy costs, optimize growing conditions and maintain the competitive edge over your competition.