HIGH QUALITY RESIN POOL HAS A HUGE 10" TOP RAIL & WILL NOT RUST OR CORRODE. SALT WATER FRIENDLY!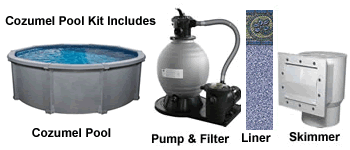 Beautiful and contemporary style combined with high-tech materials and designs make the Cozumel™ the finest above-ground pool on the market today. Designed and manufactured by one of the world's leading pool manufacturers, this pool will provide many years of family fun.
Resin pools like the Cozumel™ are an improvement on the traditional steel wall pool. They incorporate unsurpassed beauty and strength in a corrosion-proof pool structure. Extra wide 10" top rail enhances the pool's strength and beauty. If you want the ultimate in quality and style for your family, invest in Cozumel's™ premium

Features:

Manufactured of composite materials that make Cozumel's™ structure - top rails, bottom rails & uprights – impervious to corrosion.
Injection molded top rail is stronger and better looking than cheaper extruded rails.
Top rail is a big 10", giving this pool a graceful look that will never rust or corrode.
Cozumel™ is so protected against corrosion that it is warrantied for use with SALT GENERATION SYSTEMS.
Cozumel™ is a big 54" deep, which means extra fun for the whole family!
Beautifully made, structurally strong, corrosion proof Cozumel™ is backed by a 35 year Warranty.
Comes with a step-by-step installation manual.
Pump & Filter Specs:
Filter: Sandman Sand Filter
Filter Valve: 1-1/2" Top Mount Valve
Pump: Sandman Pump
Voltage: 115 Volt
Pump Port Size: 1-1/2"
Pump Cord: 6' Standard 3-Prong Cord
Warranty: One-year limited
Pool Liner Specs:
25 Gauge Liner
Rolling Rock Pattern
25-Year Warranty
J-Hook style liner fits both 54" wall pools