OUR PREMIUM ABOVE GROUND POOL FEATURING A HI- TECH RESIN STRUCTURE THAT IS 100% CORROSION-PROOF!

Beautiful and contemporary style combines with high-tech material and design to make the Matrix the finest above ground pool on the market today. Designed and manufactured by one of the world's leading above ground pool manufacturers (Atlantic Pools) , this above ground pool will provide many years of family fun. Resin pools like the Matrix are an improvement on the traditional steel wall above ground pool. They incorporate unsurpassed beauty and strength in a corrosion-proof pool structure. If you want the ultimate in quality and style for your family, invest in Matrix 's premium features:
| | |
| --- | --- |
| | HIGH TECH DESIGN AND CONSTRUCTION Matrix above ground pools are constructed of advanced resin and composite materials that make the structure (top rails, uprights, and bottom plates) super strong and also impervious to corrosion. From the internal ribbing in the top seat to the double lock system around the base of the pool, this pool is designed for rugged durability and many years of family fun. And, as an added bonus, the beautifully designed top rail and decorative seat cap give the Matrix its designer good looks. |
100% CORROSION RESISTANT The Matrix 's top rails and uprights are made of entirely non-corroding resin. Neither mid-summer sun nor driving rain and ice can cause these members to corrode as they can with a steel pool. Because resin is non-corroding by its very nature, there are no coatings to apply that can eventually chip, crack, or fail. Our Aruba above ground pool gives you the designer beauty that resin affords, plus the added benefit of a corrosion-proof structure that will outlast any steel pool available.
EASY INSTALLATION Invest in our premium Aruba above ground pool this spring and get in on the family fun. Our pools come standard with a widemouth skimmer and return fitting. A free installation DVD and manual gives you step-by-step instruction, making installation quick and hassle-free. The Matrix is backed by a 60-Year Limited Warranty . Available with a 54" wall in a variety of round and oval sizes to fit your backyard.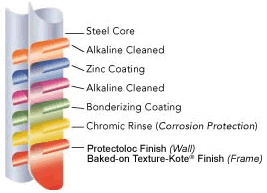 Texture-Kote Protective Finish
Provides incredibly long lasting protection from all types of weather and damaging UV rays
Construction


All Matrix frames, top rails, and bottom rails, and bottom rails are constructed of 100% high impact resin that will not rust, corrode, and fade
Deep ribbed design provides the ultimate in strength and support for a pool that lasts and lasts
Gibtaltar Buttress-Free System


Our Matrix pools have no buttresses that provide unsurpassed strength, take up less yard space, and present an attractive streamlined appearance.
Quadra-Fold Wall Joint


Each end of our pool wall is folded over 4 times to provide 8 layers of steel at the critical wall joint
Quadra-Fold construction combined with our specially engineered bolt pattern provide unsurpassed strength and structural support
Warranty

Matrix Pools are manufactured and backed by the oldest and most reliable pool manufacturer in the industry
Easy to Install


Matrix Pools are made to be easily installed by homeowners
Our step by step DVD and installation manual makes setting up your new pool easy