View: Savi Note X-Stream Water Features
What is the difference between Savi Notes and Savi Melodies? Both the Savi Melody and Savi Note are LED lights the main difference is that the Savi Notes are connected to a M4 Light Controller where the Savi Melody lights do not require the M4 controller as they have a light driver in the cable. If you go with a Note system then 4 Notes will hook up to one M4 controller. If you go with a Melody System then you will need to purchase a transformer for the system, a transformer is not required for the Notes. Click here to view the Savi Melody.

What is the difference between fiber optics and LED? Typically LED is much less to operate than fiber optics and gives similar light out put as Fiber Optics. The main benefit to Fiber Optics is that you can run many lights off of a fiber optic illuminator which allows you to create a complete backyard lighting environment. So if you are looking for just one or two lighting features then LED is typically a good option, if you are looking at adding many lighting features then fiber optics is the way to go. Click here to view our Fiber Optics Guide which explains fiber optics in much greater detail.

NOTE: Savi X-Steam Note requires one of three M4 Controllers(sold separately)
SaVi Notes

SaVi Notes are a niche less underwater LED lighting system for pools and spas. The SaVi Notes fit into the standard wall fitting of a pool for easy design and installation. They are ETL approved for mounting 4" below water level, which makes them ideal for swim-outs, beach entries, sun shelves and other shallow water applications, as well as general pool illumination. Create a variety of effects and a myriad of colors with these small but powerful lights. Their compact design makes them ideal for retro-fitting Fiber Optic systems. *SaVi Notes come with 75 or 150 feet of power cord.

M4 Controller

The M4 controller is used to control the color changing ability of the SaVi Note(s) and X-Stream Module(s). One M4 can control up to 4 SaVi Notes and/or 4 X-Stream Modules. The standard M4 can be connected to a wall switch, Aqua Link or any pool control. Toggle the power to the M4 controller to change color modes. The Stand-Alone M4 comes with 9 standard color modes (see below). The DMX version comes with 8 pre-programmed color modes (see below) and comes with software for custom programming.

Please Note: The SaVi Notes require the separate purchase of the M4 LED Controller which, is used to control the color changing ability of the lights. One M4 can control up to four (4) SaVi Notes.

M4 Color Modes (Stand Alone Version)
5 Static Colors: White, Green, Dark Blue, Light Blue & Pink
4 Color Modes: Smooth Color Transition, Blue/Green Fade,
Medium & Fast Color Changes
Recommended Installation: Below we have listed the recommended installation for the SaVi Notes. When possible position fixture so the light is directed away from the house. Use multiple lights to obtain an even distribution of light throughout the pool/spa.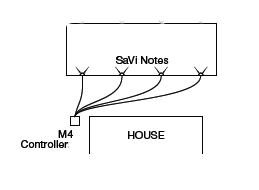 Click here for the Savi Note Sales Brochure
Click here for more information about Fiber Optics.