View: Savi Melody X-Stream Water Features
FAQ's

What size transformer do I need for the Savi Melody? Each of the SAVI Melody lights or the SAVI X-Stream Melody drivers draws 14 watts so you can run 7 lights on a 100 watt transformer or 21 lights on a 300 watt transformer.

Will multiple SAVI Melody Lights synchronize together? The SAVI Melody lights will synch as long as they are on the same circuit.
What is the difference between Savi Notes and Savi Melodies? Both the Savi Melody and Savi Note are LED lights the main difference is that the Savi Notes are connected to a M4 Light Controller where the Savi Melody lights do not require the M4 controller as they have a light driver in the cable. If you go with a Note system then 4 Notes will hook up to one M4 controller. If you go with a Melody System then you will need to purchase a transformer for the system, a transformer is not required for the Notes. Click here to view the Savi Note.
What is the difference between fiber optics and LED? Typically LED is much less to operate than fiber optics and gives similar light out put as Fiber Optics. The main benefit to Fiber Optics is that you can run many lights off of a fiber optic illuminator which allows you to create a complete backyard lighting environment. So if you are looking for just one or two lighting features then LED is typically a good option, if you are looking at adding many lighting features then fiber optics is the way to go. Click here to view our Fiber Optics Guide which explains fiber optics in much greater detail.

SaVi Melody

SAVI Melody is part of a small but powerful lighting system designed to create even illumination and colorful lighting effects throughout your pool and spa. They fit into standard pool fittings as shallow as 4-IN below water level so they are ideal for swimouts, beach entries, sun shelves and other shallow water applications. Multiple SAVI Melodies placement will provide even illumination throughout the pool & spa.



Additional Product Information:
No Niche Needed! Fits Standard gunite, vinyl and fiberglass return fittings.
No Control Box! Use as many lights as you like. 1, 2, 3 or more, only limited by the size of your transformer and no control box! Wire direct to a12 VAC low voltage circuit.
Lamp Life is 5 times longer than standard pool lighting
True-Color Mix Technology - Colors mix in the lamp not in the pool so the light is always pure, bright and vibrant.
Auto Memory which saves last setting when turned off - returns to saved setting each night
Easily synchronize the SAVI MELODY with a SAVI POOL LIGHT, SAVI NOTE or SAVI SPA LIGHT for a truly incredible lighting display
5 Vibrant Colors Include:
Moonlight White
Blue Lagoon
Passion Pink
SAVI Blue
Sargassion Sea
4 Color Shows:
Treasure Island (smooth color tansition)
Caribbean Hues (blue to green fades)
Dance Party (fast color changing)
Copacabana (medium fast color changing)



The SAVI Melody can be wired to any 12 VAC transformer, wire transformer to any controller, wall switch, etc. NO SEPARATE CONTROLLER NEEDED. Use 1, 2, 3 or more Melody light(s), you are only limited by the size of your transformer. Just toggle power switch off/on to change modes.

Product Specifications:
Wattage (ea): 14W
Amps (ea): 1.2A
Light Output: Equivalent to 75 watts of incandescent lighting.
Beam Spread: 360 degrees
2 Year Warranty
Easy Installation

No niche is required for installation. The SAVI MELODY fits into a standard return fitting with a minimum 14 inches of 1.5" diameter PVC pipe. Then reduce to a 1" diameter conduit for the cable run to the transformer.
STEP 1 The light fixture must be installed in or on a wall of the pool (or water feature) with the top of the lens opening not less than 4 inches (10.16cm) below the normal water level of the pool except when the fixture is installed in an area of the swimming pool that is not used for swimming and the lens is adequately guarded. STEP 2 Snake the 2-conductor electric cord through the conduit outlet of the wall fitting, into the conduit and up to the location of the 12VAC pool transformer. Cut off extra cord after, allowing for service and length of run to the transformer. Pull the fixture snug to the wall fitting. STEP 3 Using the lens wrench (part # 13.6151), thread the fixture into the wall fitting until it is snug.

STEP 4

Prepare the end of the power cable and install to the 12VAC output wires of an approved pool "safety rated" transformer. Allow up to 1.2 amps of transformer output current per installed Melody. No separate ground or bonding wire is required for the Melody (low voltage with no exposed metal) along with not requiring a niche.

STEP 5

Please make sure that all protective coverings have been removed.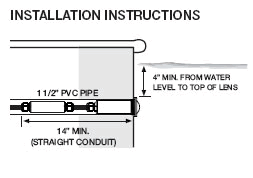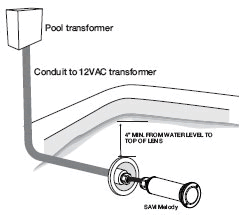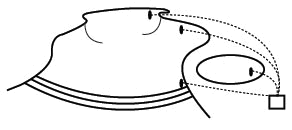 12V Intermatic Transformers for Swimming Pools - PX100, PX300 & PX600

These Safety Transformers are specifically designed to supply 12 volts to pool / spa lights, submersible fixtures and outdoor garden lights. A grounded shield between the primary and secondary windings assures safe operation and the built-in circuit protection will disconnect power to the transformer in case of defect or overload.
Click here for the Savi Melody Sales Brochure
Click here for the Savi Melody Owners Manual
Click here for more information about Fiber Optics.