Description
The Turbo Twister pool slide will bring the fun of a water park to your own Backyard! The Turbo Twister is over 8 feet high.The Water Delivery System gives you a generous 40 gallons of water per minute with an the ability to adjust the flow of water going to the slide. Everyone pops out of the water grinning from ear to ear after a trip down a Turbo Twister pool slide. Our slides are designed for adults and children of all ages. Because they'll be so popular with your guests, we make sure all our slides are scratch resistant, fade resistant and vacuum-formed for strength and durability. Every slide is designed for safety, innovation and most of all, fun!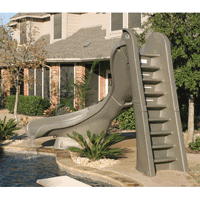 The Turbo Twister was designed with maximum fun and safety in mind with a super deep flume that safely accommodates children and adults, up to 275 lbs.! Easy to install with lightweight pieces that are easy to handle, the slide assembles in less than one hour (without plumbing and deck mounting). Joints come complete with sealants for no-leak guarantee


The Turbo Twister is available in either right or left curve and either Sandstone or Gray Granite.
5 Yr Pro Rated Warranty / Installation Hardware Included
Dimensions
The Turbo Twister requires a deck space with a dimension of 13'-1" along the swimming pool by 6'-4" away from the swimming pool.
Click here for Owners Manual
Click here for Installation Instructions.