Top
Product Description
NEW Galaxy PLUS Pool and Spa Lights color changing LED light replacement bulbs

The Galaxy PLUS Pool and Spa Lights give you the ability to change the colors to control the mood of your entire backyard by synchronizing with our Savi X-Stream outdoor Light Kits. Create drama, excitement or a relaxing atmosphere with the flip of a switch.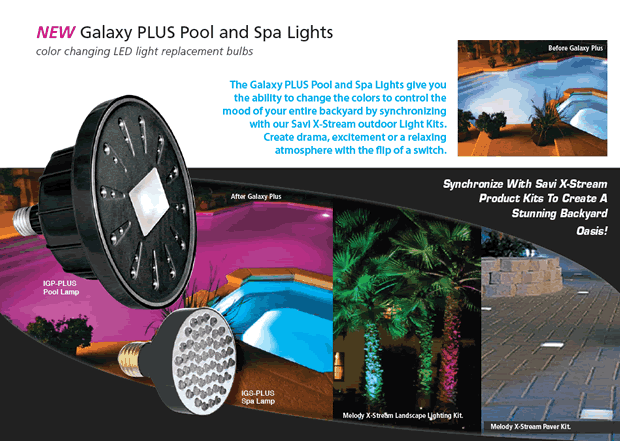 Brighter than any Color LED Pool Replacement Light on the market today! Synchronizes with all Melody, Notes and X-Stream products.

* Now 40% Brighter than the Original Galaxy Light.
ENERGY EFFICIENT
Using only 40 watts, 90% less energy than a standard pool light, the Galaxy PLUS LED Color Changing Pool Lights use minimal energy to achieve stunning colorful effects in your Pool and Spa.

LONG LAMP LIFE
5 times longer than standard pool lights

ETL LISTED
The Galaxy Light PLUS meets or exceeds nationally recognized electrical product safety standards.

EASY TO INSTALL
The Galaxy Light PLUS screws into the existing housing like a typical light bulb. Always make sure to use a new housing gasket when changing any underwater lamp.

BRILLIANT COLORS
The Galaxy Light PLUS creates a variety of exciting colors and effects to suit your mood. Uses existing pool light switch to change color modes.

NO MOVING PARTS
On-Board Controller, Sturdy construction and innovative design ensures the Galaxy Light PLUS will provide you with years of carefree use.

EXCITING "Shows"
Smooth Color Transition
Blue/Green Fade
Fast Color Changing
Medium Changing
VIBRANT Colors
WhiteLight
Blue
Green
Pink
Dark Blue
Ordering Information:
| PART NUMBER | DESCRIPTION |
| --- | --- |
| IGP-PLUS-12V | LED Pool Lamp, 12V |
| IGP-PLUS-120V | LED Pool Lamp, 120V |
| IGS-PLUS-12V | LED Spa Lamp, 12V |
| IGS-PLUS-120V | LED Spa Lamp, 120V |
Galaxy PLUS Lamps - Synchronizes with Melody, Note, and X-Stream

This product covered by one or more of the following patents; 7,204,602. Features officially licensed technology from Color Kinetics; patent numbers
6,016,038 6,150,774.