Top
Model # NC32R
Warranty 1 Year Warranty
Product Description
ALL NEW NITRO ROBOTIC POOL CLEANER

Packed with power cleaning robotic features at this great price!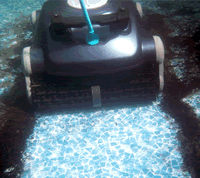 Smart Pool, one of the leading manufacturers of automatic pool cleaners introduces Nitro, a new robotic cleaner that is packed with features at an affordable price. Nitro is designed to clean, scrub and vacuum up to a 20 x 40 pool in 2 hours or less. Strategically designed ports means this dynamo cleans up to a 40% wider path than other robotic cleaners. Its patented filter bag is twice as large as other cleaners, so it needs to be emptied only half as much. The tight weave of its bag traps dirt, algae and even bacteria – nothing escapes the Nitro. Since it has its own filtration system the unit filters thousands of gallons an hour while it helps redistribute pool chemicals. None of Nitro's debris ends up in your pool's pump and filter!
Nitro is completely safe and runs on 24 volts so it costs only pennies a day to operate. Its patented "super cord" technology is twist resistant so the unit is never steered by the twisted cord . Its "intelligent" technology insures that it cleans every corner of your pool regardless of shape. Works on all pool
surfaces vinyl, concrete or fiberglass. Even with its powerful cleaning motors, Nitro's advance polymer construction means
it is lighter than other robotic cleaners and weighs a mere 8 lbs. Anyone can easily pull the unit out of the pool.
Use Nitro's advanced design to clean your pool faster, more thoroughly and easier than any other cleaner in the world. Nitro comes complete with transformer, 50 ft of cord. The Nitro is not a wall Climber. 3 year warranty