Top
Model # LPL-H50-P1-WHT-120-S
Product Description
LED POOL LIGHT FIXTURE
J&J Electronics LED Lamp Assembled in Housing
Assembled with PureWhite™ LED large lamp
Single piece light housing
Proprietary retainer ring allows easy access to the lamp
without any clamps, bolts or screws
Retrofits into most existing light niches
1-year warranty on pool light fixture*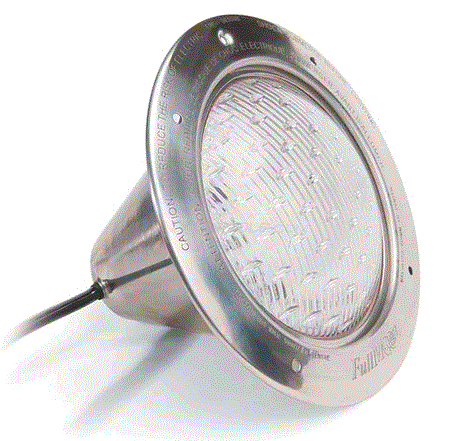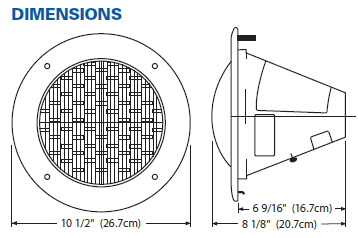 The J&J Pool Light Fixtures will fit the following Pool Light Niches:
Hayward SP0600U - Concrete Pool Niche
Hayward SP0607U - Vinyl / Fiberglass Pool Niche
Pentair 79206700 - Concrete Pool Niche
Pentair 620004 - Vinyl / Fiberglass Pool Niche

PureWhite Replacement LED In-ground Pool Lights offer ultra-bright white, long life output LED illumination for in-ground pools. These replacement pool lights are compatible with most standard, medium base housings. Plus, they are designed to significantly reduce energy consumption and maintenance costs. PureWhite lights are ideal for commercial and residential pool applications where white light is required or preferred.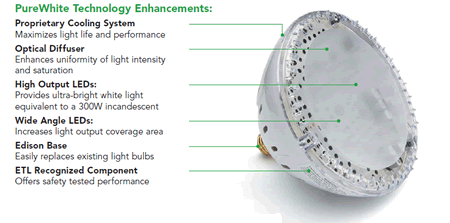 Instant Operating Expense Savings and a Fast ROI:
PureWhite immediately reduces operating expenses with its low energy
use and maintenance-free performance. In fact, the average PureWhite
installation sees a ROI in just 12-18 months.
PureWhite Advantages:

• Uses 45 watts or less - reduces energy use by 90%
• Lasts up to 50,000 hours - 20x longer life
• Enhances pool water appearance - looks clearer and cleaner