Free Shipping
on all Orders
over $25!
Len Gordon Jetted Tub Controls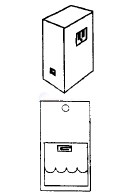 Available in on/off or on/off with a 10 minute time-delay and water level
sensor option. The TF-1TD plugs directly into any standard 120v household
wall outlet. Pump to be controlled is plugged directly into the TF-1TD socket.
Attach air tubing and any Len Gordon button to control and installation is
complete.