THERMAL GUARD PREMIUM SPA COVERS
Spa Cover Measuring Form (Must Be Filled Out)

THIS RUGGED SPA COVER INSULATES YOUR SPA AS IT GUARDS AGAINST UNWANTED ENTRY!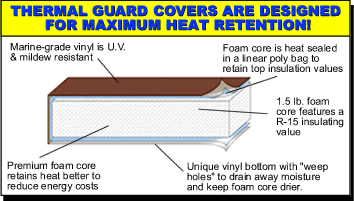 Please complete our measuring form (Click RED Icon Above) and specify color when ordering. Fax completed measuring form to 1-866-284-5122 Prices listed above are for standard shape covers (round, square, rectangle, octagonal, or hexagonal) with a total length, diameter, or width of 96" or less.
Our spa cover comes in 11 attractive colors and is backed by a 3-YEAR WARRANTY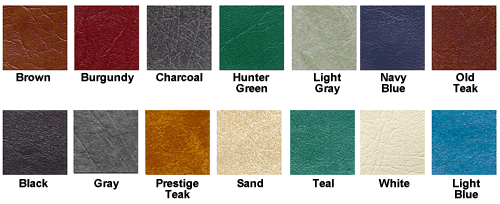 Our top quality spa cover is made of marine grade vinyl to withstand winter's worst, while remaining soft and pliable. The foam core is wrapped with a tight vapor barrier that keeps the foam core drier, so the cold stays out and your spa stays warmer. Our spa cover boasts superior craftsmanship throughout. Rugged aluminum reinforced hinges insure that repeated folding will not weaken the cover. Durable polyester stitching will hold up much better than cheaper cotton or canvass thread.
The Thermal Guard cover uses 1.5 lb. foam and a 4" to 2" taper to keep your spa warm and to insure proper rain runoff. Plus, for extra safety, our cover features locking hardware and fasteners that prevent children and pets from unwanted spa access.
SUPER-STRONG THERMAL GUARD "WALK-ON" SPA COVER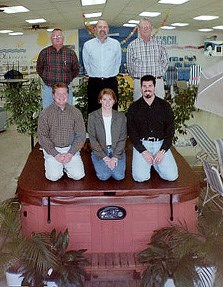 This top-of-the-line cover is so strong that you and your family can walk on it. Super-strong reinforced foam core can hold 3-feet of snow or a whole family. Built with the same quality construction of our regular Thermal Guard covers - but stronger! It's 4" to 2" taper is extra insulating (R-value of 19) and it is backed by a 7-YEAR WARRANTY. Great for spas at deck level or to add extra protection when children and pets are a concern.Spa

CoverSavers
Gladon's Spa CoverSaver is designed to float on the surface of the water in your spa. The CoverSaver protects your expensive spa cover from the chemicals in your spa water, extending cover life. Works with your main cover to limit heat loss, saving expensive energy.
Spa Solar Cover
Our spa solar covers are made to provide you with the maximum heating and insulation properties. These Durable, 10-mil covers are loaded with thermal bubbles that retain heat at night and on cloudy, cool days. The cover's transparent blue color helps ensure the sun's heating rays are reaching your spa water. Your spa will be up to 15F degrees warmer than one that is left uncovered. All of our spa covers are U.V.protected, helping them last long even under the most intense sunlight.
Click here for more Spa Supplies