Top
Product Description
It's big, beautiful, safe and secure. Organize your yard, rec center or country club with this beautiful, new Storage Trunk. It boasts a spacious 14-cubic feet of space to corral and protect rafts, noodles, kickboards, flotation devices, balls, furniture cushions and everything else.
It's strong. Rotationally molded from rugged polyethylene in a single piece, this waterproof Storage Trunk resists chlorine, biocides, salts and other chemicals as well as sunlight and severe weather.
The Pool Shot Storage Trunk includes a one-piece, lockable polyethylene cover design to stay upright when opened. When closed, the shaped cover diverts rain outside the chest while creating a tight seal with the bin to protect contents. The covered chest also doubles as seating to support up to three adults. Plus, it uses a novel, off-ground design that permits water to flow under and away from the unit to prevent pooling against the chest. It also locks for security.
You can keep this durable Storage Trunk outside year-round or if you want to move it for the winter, just lift up a recessed handle and roll it away on built-in wheels!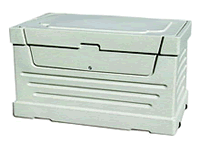 Available in:
1. Light Granite
2. Black Marble