Top
Product Description
AQUA FIT
COMPLETE EXERCISE SYSTEM FOR YOUR POOL
Get in shape with Aqua Fit. Since you only weigh 10% as much in water as you do on land, aquatic exercise is easier on the joints. Get a high calorie burn and aerobic conditioning in your pool… without pain, with the Aqua Fit Exercise System.
The Aqua Fit Exercise Kit provides you with everything you need for a great aquatic workout: A Jogger Belt, 1 pair Ankle Cuffs, and 1 pair Hand Bars.
The kit also includes an informative poster detailing aquatic exercise routines and important tips on how to use your equipment. Get in shape in your pool this summer with our Aqua Fit Exercise Kit!
AQUA FIT JOGGER BELT
— This is the heart of the system, keeping you suspended at shoulder level in the pool so you have the freedom to exercise all of your limbs at once. The super soft foam is comfortable and chlorine-resistant. The belt is adjustable to fit up to a 48" waist.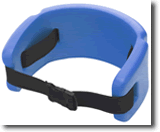 AQUA FIT HAND BARS
— These aquatic "dumb bells" exercise your arms by creating drag in the water. They are made of super soft foam and feature non-slip hand-grips.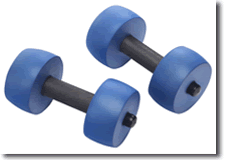 AQUA FIT ANKLE CUFFS
— Ankle cuffs are used to provide additional resistance for your legs and increase muscle tone and fitness levels. They too are made of super soft foam and are adjustable to fit any ankle size.