Top
Product Description
Standard Equipment Package includes...
STA-RITE PREMIUM GRADE ABOVE-GROUND SAND FILTER & PUMP SYSTEMS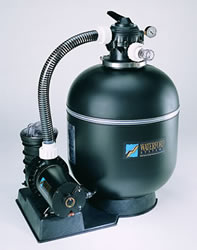 STA-RITE PUTS QUALITY IN THIS HIGH PERFORMANCE, LOW -MAINTENANCE FILTER SYSTEM
These rugged high-performance sand filter systems will deliver years of trouble-free operation. Sta-Rite, known for manufacturing top quality in-ground pool equipment, has brought its technology to its above-ground line – delivering superior flow rates, energy-efficient operation, and unsurpassed reliability.
The high quality filter tank is constructed of tough polyethylene that is weather resistant and corrosion-proof. It is backed by a 10-Year Warranty. An easy-to-use, 6-position multi-port valve for quick backwashing tops this rugged tank. Inside the tank, unique sand laterals provide even flow through the sand bed insuring maximum filtration as water passes through the filter. This highly efficient filtration system reduces energy costs by enabling you to run your pump less while still maintaining crystal clear water.
The Standard Equipment Package is available two different sized systems: an 18" tank with 1-hp pump (for pools up to 24' round) and a 21" tank with 1-1/2 hp pump (for pools over 24' round). Both systems come complete with base, multi-port valve, and hose connections. Put Sta-Rite's advanced technology to work on your pool this summer.
MAINTENANCE KIT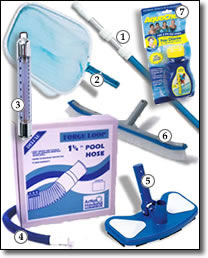 1. 3-PIECE TELEPOLE. EXCEPTIONAL QUALITY AND FUNCTIONALITY!
Enjoy years of use from this professional quality telepole featuring an external cam constructed of high-quality anodized aluminum - no rust or corrosion! This 3-piece telescoping pool has an extra-thick hand grip and two external locking cams for easy operation. The telepole length can be adjusted between 5' and 15'.
2. PREMIUM ALUMINUM LEAF SKIMMER. BUILT TO LAST!
Enjoy years of use from this top quality leaf skimmer featuring a rugged, yet lightweight aluminum frame with a no-mar finish to protect pool walls. The mesh net is super strong and chemical -resistant. Quick-release, Snap-Adapt® handle fits any standard size telepole.
3. DELUXE CHROME THERMOMETER. KEEP YOUR EYE ON THE TEMPERATURE!
Solid brass body and polished chrome finish make this thermometer both attractive and durable. Shatterproof plastic lens magnifies both Centigrade and Fahrenheit temperatures. Comes with an 8" nylon cord. Weighted body will not float.
4. STANDARD VAC HOSE - FOR ABOVE-GROUND POOLS. TOP QUALITY AT A GREAT PRICE!
This high quality 1-1/4" vac hose features rugged construction for use on an above-ground pool. Its smooth inside walls allow for full, unrestricted flow and a special U.V. coating provides protection from the sun for years of use. Backed by a 2-Year Warranty.
5. VINYL LINER VACUUM HEAD EXCEPTIONAL CLEANING POWER!
Designed especially for vinyl liner pools, this vac head's unique brush pattern channels debris directly to the suction for easy removal. Heavy weights help the vacuum hug the pool floor for optimal cleaning power. Snap-Adapt® handle fits on any standard telepole. Weighs approximately 3 lb.
6. NYLON WALL BRUSH. KEEP YOUR POOL WALLS FREE OF ALGAE AND GRIME!
This rugged wall brush is specially molded with rounded corners and no sharp edges. Perfect for use on concrete, fiberglass, or vinyl liner pools. Thick, nylon bristles remove the most stubborn dirt & stains and outlast cheaper plastic bristles. The wide face is reinforced with die-cast aluminum for years of use. Snap-Adapt® quick-release handle fits any standard size telepole. Measures 18" across.
7. AQUACHEK TEST STRIPS. THE QUICK, EASY WAY TO TEST POOL WATER!
No more vials, reagents and messy drops. Use AquaChek's simple, yet accurate test strips instead of that complicated liquid test kit. Just dip and read the results in 30 seconds. These 3-Way strips test for Alkalinity, pH, and Free chlorine or bromine.
DELUXE A-FRAME LADDER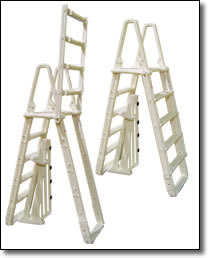 Adjustable height from 48" – 54"
Maintenance-free resin construction will support up to 300 lbs.
Snap-lock treads for quick, easy assembly
Large top platform protects your pool's toprail
Full 16" inside tread width
Swing up outside ladder locks for safety. Padlock included.
Integral "wing" prevents swimmer entanglement and meets all local and federal safety codes
5-Year Warranty