Top
Product Description
Ultra Equipment Package includes...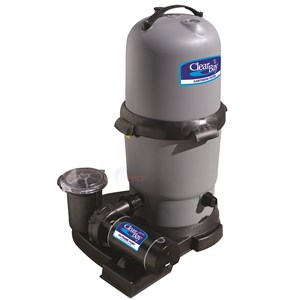 Waterway ClearWater II Cartridge Filter System with Hi-Flo Pump for Above Ground Pools
The ClearWater II Cartridge Filter and Pump Standard System provides homeowners with everything needed to get their system up and running. It assures them of matched components and optimal performance for years of dependable service.
Features:
Large filtration, small footprint cartridge filter
Hi-Flo High Performance Dual Speed Pump
Large 6″ pump trap with one-piece clear lid
Two 1 1/2″ diameter hoses, with clamps
Complete fittings package for all connections
Dual speed pump meets CEC Title 20 Code – Effective January 1, 2008
150 GPM flow rate
Includes:
2 Hoses (1 1/2″ x 6 ft.)
Filter/Pump Union Adapter, Hose fittings and hose clamps
3 ft. cord NEMA plug, 115V
One-piece base system
MAINTENANCE KIT

1. 3-PIECE TELEPOLE. EXCEPTIONAL QUALITY AND FUNCTIONALITY!
Enjoy years of use from this professional quality telepole featuring an external cam constructed of high-quality anodized aluminum - no rust or corrosion! This 3-piece telescoping pool has an extra-thick hand grip and two external locking cams for easy operation. The telepole length can be adjusted between 5' and 15'.

2. PREMIUM ALUMINUM LEAF SKIMMER. BUILT TO LAST!
Enjoy years of use from this top quality leaf skimmer featuring a rugged, yet lightweight aluminum frame with a no-mar finish to protect pool walls. The mesh net is super strong and chemical -resistant. Quick-release, Snap-Adapt® handle fits any standard size telepole.

3. DELUXE CHROME THERMOMETER. KEEP YOUR EYE ON THE TEMPERATURE!
Solid brass body and polished chrome finish make this thermometer both attractive and durable. Shatterproof plastic lens magnifies both Centigrade and Fahrenheit temperatures. Comes with an 8" nylon cord. Weighted body will not float.

4. STANDARD VAC HOSE - FOR ABOVE-GROUND POOLS. TOP QUALITY AT A GREAT PRICE!
This high quality 1-1/4" vac hose features rugged construction for use on an above-ground pool. Its smooth inside walls allow for full, unrestricted flow and a special U.V. coating provides protection from the sun for years of use. Backed by a 2-Year Warranty.

5. VINYL LINER VACUUM HEAD EXCEPTIONAL CLEANING POWER!
Designed especially for vinyl liner pools, this vac head's unique brush pattern channels debris directly to the suction for easy removal. Heavy weights help the vacuum hug the pool floor for optimal cleaning power. Snap-Adapt® handle fits on any standard telepole. Weighs approximately 3 lb.

6. NYLON WALL BRUSH. KEEP YOUR POOL WALLS FREE OF ALGAE AND GRIME!
This rugged wall brush is specially molded with rounded corners and no sharp edges. Perfect for use on concrete, fiberglass, or vinyl liner pools. Thick, nylon bristles remove the most stubborn dirt & stains and outlast cheaper plastic bristles. The wide face is reinforced with die-cast aluminum for years of use. Snap-Adapt® quick-release handle fits any standard size telepole. Measures 18" across.

7. AQUACHEK TEST STRIPS. THE QUICK, EASY WAY TO TEST POOL WATER!