Top
Product Description
The newest member of the DEL ECLIPSE product line, the DEL SPA ECLIPSE is the first Corona Discharge ozone generator for residential spas available through distribution. In addition to the advantages of Corona Discharge ozone technology, the DEL SPA ECLIPSE saves money because the Corona Discharge chip uses less energy (no lamp, ballast, or starter) than an ultraviolet generator and costs less to replace.
The DEL SPA ECLIPSE uses solid state electronics to eliminate voltage spikes that can upset spa-pack electronics or trip the G.F.C.I. Finally, water backup into the DEL SPA ECLIPSE will not harm the unit or trip the spa's G.F.C.I.

Q: What is the difference between the Stand Spa Eclipse Ozonator and the Platinum Series Spa Eclipse Ozonators?
A:
The Platinum Spa Eclipse has a flow restrictor which allows less air flow through the system. Less air flow means there is less overall production of ozone but nearly double the concentration of ozone. The main thing to consider when comparing ozonators is the concentration of Ozone. The specifications of each unit is as follows:
Standard Spa Eclipse - 35 Mg of Ozone @ 300 Parts Per Million
Platinum Spa Eclipse - 20 Mg of Ozone @ 500 Parts Per Million
The Platinum Ozonator is rated at a 15,000 hour life span where the standard unit is rated at 9,000 hours, so the platinum will last almost twice as long.
The last thing to consider is that the standard eclipse has a replaceable chip which costs about $52 and the Platinum Eclipse does not have a replaceable chip, so after the 15,000 hours you would need to replace the entire unit.
Click here to view the Platinum Series Spa Ozonators

DEL SPA ECLIPSE Installation
For installation into spas with water capacity up to 1,000 gallons. Plumbs into all ozone-ready spas or the spa return line. Injects ozone through venturi when the spa circulation system operates.
For spas where the air venturi is inaccessible, inconveniently located, or provides insufficient suction, a DEL injector manifold may be used. These installations are also used if an air-blower is used to "supercharge" jets.
1-speed pumps require DEL injector manifold IU-206 (NSF listed)
2-speed pumps require DEL injector manifold IU-201
DEL SPA ECLIPSE Unit Specifications
Electrical: 110/120V, 90mA, 11W, 60Hz / 220/240V, 90mA, 22W, 60Hz
Make sure you are purchasing the correct plug configuration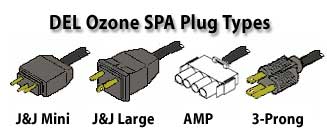 Cabinet: Molded Plastic Enclosure
Unit Size: 5"W x 6"H x 2.5"D
Warranty: One Year
Single CD Chip: All CD chips rated for 9,000 hours of operation.
Components: SpaECLIPSE CD ozone generator, ozone supply tubing, ozone supply check valve, mounting screws, installation manual with water chemistry guide.
Click here for more Pool Ozonators