Top
Product Description
ZO-300/302 Modular Spa Ozonator For installation into spas with water capacity up to 1,000 gallons. Designed for permanent installation. Unit plumbs into the spa's air venturi to give optimum ozone dispersion through the spa's circulation system.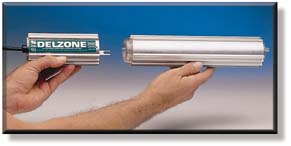 The ZO-300/ZO-302 power supply and ozone generator cartridge easily snap together to mount horizontally or vertically into the mounting clamps which are secured to a solid surface.
For spas where the air venturi is inaccessible, inconveniently located, or provides insufficient suction, a DEL injector manifold may be used. These installations are also used if an air-blower is used to "supercharge" jets.
1-speed pumps require DEL injector manifold IU-206 (NSF listed)
2-speed pumps require DEL injector manifold IU-201
ZO-300/ZO-302 Unit Specifications
Electrical:
ZO-300: 110/120V, 0.45A, 54W, 60Hz
ZO-302: 220/240V, 0.45A, 108W, 60Hz
Cabinet: Extruded aluminum construction
Unit Size:
ZO-300: 16"W x 2.75"H x 2.75"D
ZO-302: 19"W x 2.75"H x 2.75"D
Warranty: Lifetime on power supply to original owner; one year on lamp cartridge.
Components: DELZONE modular ozone generator, ozone supply tubing, standard parts bag, clamps for mounting, power cord, installation manual.
Ozone Output: 3scfh; 280ppm; 0.042gr/hr
Click here for more Spa Ozonators