Top
Product Description
Economically smart

An ECO Energy heat pump is the most cost-efficient method for pool and spa heating. Compared with gas, oil and electric pool/spa heating methods, an ECO Energy heat pump can save you hundreds of dollars in operational costs each year. ECO Energy units provide 4 to 7 kilowatts of water-heating energy for the price of only 1 kilowatt hour! That means big savings on your pool heating bill-up to 80% less than the cost of other heating methods. Generally, the ECO Energy heat pump can heat your pool/spa for an entire month at a cost less than one week's heat with L.P. Gas or Electricity. That makes ECO Energy the economically smart choice for pool/spa heating. America's only safety listed pool heater with Safe & Clean Refrigerant R410-A. ECO Energy heat pumps rated No. 1 for the highest BTU's in the industry by The Pool Heat Pump Manufacturers Association.
Isolated Compressor and Component Sections
The compressor along with internal and electrical components are isolated in their own compartments. This exclusive bulkhead arrangement provides protection from the salt and moisture laden airflow circulating through the heater.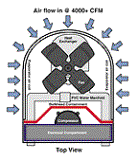 Non-Corrosive Composite Cabinet
A non-rusting weather resistant fiberglass and electro-coated composite cabinet is designed to withstand the severe Florida climate and natural pool environment.
High Efficiency TRANE Compressor
This compressor, the hart of the heat pump, is the most energy efficient, durable and quietest in operation today. This translates to longer swim seasons and significantly more BTU output vs. Scroll Models charged with R-22.

Self-Diagnostic Control Panel
Mounted on every unit is our "user friendly" self diagnostic lighting system. This control panel monitors and troubleshoots heat pump operations. Built in operating controls protect the unit from accidental damage.
Warranty:
5 year parts and labor
Compressor - 10 years 100% / 6-10 years 100% Parts