Top
Part # NFC3830
Alternate Part #'s 11602, C6616, FC3830, PMS16, APCC7044, PLEPMS16-4, XLS-640
Product Description
HIGH QUALITY POOL & SPA REPLACEMENT CARTRIDGES


Our generic replacement cartridges are less expensive than the original manufacturers' brands yet still meet the same high quality standards. The key components of a cartridge - filter media, core, and end cap - are all designed for maximum water flow and cartridge life.
The filter media is point bonded polyester with even fiber distribution which results in an even dirt load and increased water flow.
The Sharp & Uniform pleated media provides filtration area (square footage) that meets or exceeds the original manufacturers' specifications.
An open core design provides sturdy support for the media without restricting flow. Increased flow rates result in less wear on the pump and reduced energy usage.
Anti-microbial end caps inhibit the growth of bacteria, mold and mildew while supporting the core and media.
Banded Pleats maximize flow during operation, and help to reduce the frequency of cleaning. Banded pleats also make the cartridge easier to clean.
We carry thousands of generic cartridges to replace all of the most popular OEM brands such as Sta-Rite, Pentair / Pac Fab, Hayward, Purex, American Products, Jacuzzi, Hot Springs, Coleman, and more.
Top End Cap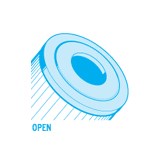 Bottom End Cap