Top
Product Description
The 60" x 30", 300 Gallon Portable Spa Package from Advantage Manufacturing.
This is not an inflatable spa nor is it a rigid plate system - rather this spa is constructed with an aluminum framed structure and liner as used with the popular Advantage Portable Pool housed in a soft inflatable skirt.
Always In Stock - It comes complete with - Full Size 20 GPM adjustable jets with dedicated air lines, 115 Volt Pump, Oversized 50 Sq. Ft. Filter, Energy Efficient 1500 Watt, 6 Amp Stainless Heater, Thermal Cover/ Wrap Skirt, 2 matching Pillows/Seats and Lifetime liner Warranty against ripping and tearing.
Assembles Without Tools!
The average person can assemble the Advantage Portable Spa in minutes. Can be easily disassembled without tools and moved as often as needed without damage to any of the parts. Quickly stores away if desired.
No Ground Preparation!
Installs on grass, cement, wood - anywhere. Perfect for patios and most balconies.Genuine Heater and Jets! Spa pack features a 1500 Watt, 6 A. heater with flow through stainless heating elements and a 115 Volt pump with GFI protected cord that plugs into any household outlet - no electrician needed. Completely plumbed system features 3 powerful full size 20 GPM jets.
Durable Aluminum Frame and 30 Mil Liner Stands Alone!
Same as used with The Advantage Portable Pool. The non-structural inflatable wrap skirt fits over the spa liner/frame for comfort and insulation.

Soft Inflatable Skirt with 2 Pillows!
For comfort and insulation the soft skirt and pillows are available in Blue or Green.

Thermal Cover and all Fittings included!
The Advantage Portable Spa is ready to go out of the box!
The Unique dual action spa pack runs jets and heater simultaneously for extended heating time and enjoyment.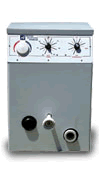 • Easy hose access for quick install
• On/Off control to airline to all jets brings heated air from spa pack increasing run time
• Heavy Duty Pump Filter assembly housed in an unbreakable rustproof acrylic enclosure
• Large 18" x 5" 50 Sq Ft Filter keeps spa water crystal clear
• Unionized stanless steel flow through heater with automatic thermostat keeps spa water hot and ready to use.
• Flow through stainless unit.• Heat recovery from spa pack thermal environment
• Heater and jets run simultaneously• Unique dual heating action utilizing heat from spa pack enclosure
• Best of both technologies - 50 Square foot canister enclosed.
• GFCI Cord Plug 115 Volt• 1.5" Flexible I/O hoses allows for pack maneuverability for tight spaces
• Spa maintains 1 Hour + of heat w/o dropping below 100 degrees because of the jet/heater simultaneous run feature. Other 115V spas don't do this.
• Large 300 gallon capacity holds heat longer than other portable spas