Top
Part # PCM88-M4
Dimensions 7" L x 7" W x 16.5" D
Alternate Part #'s C-7474, FC-0690, PCM88, PLEPCM88-M4
Product Description
This is the Microban replacement cartridge used on the American Quantum Stainless Steel, Quantum RPM, Quantum CM, (4 required)
Why Microban Protection?
Water and an ample food source provide the ideal condition for bacteria to quickly multiply and grow. In fact, on an unprotected surface, some microbes can double in number every 20 minutes. And only when they've multiplied to hundreds of thousands, can they actually be seen by the naked eye.
The images below show bacteria growth on a standard pool filter cartridge versus a pool filter cartrdge infused with Microban® antimicrobial protection over a 24 hour period.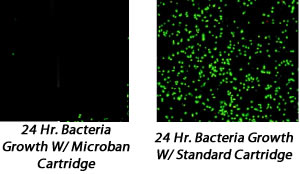 After viewing these images, you can see how Microban® protection begins to work immediately, disrupting key bacterial cell functions so that bacteria are unable to grow or reproduce on the surface. While on the unprotected surface, bacteria quickly multiply.
How It Works
Microban technology is infused into the filtration fabric during the manufacturing process and becomes part of the molecular structure. The silver technology works continuously to provide an added level of defense that keeps your filter cleaner between cleanings. Antimicrobial protection is limited to the filter and is not designed to replace normal water treatment chemicals.
With the Microban brand, you know you're getting continuous, durable and effective antimicrobial protection that provides an added level of defense against damaging bacteria for the useful lifetime of your pool or spa filter.