In terms of heating, what is better, a swimming pool heater or heat pump?
Every year, like clockwork, pool owners ask us this question. Both swimming pool heaters and heat pumps provide excellent heat sources for pool heating. Honestly, the answer depends on a couple of different factors. Comparatively, they are unique to the pool owner's needs and wants.
Before making your purchase, let's discuss the pros and cons of swimming pool heaters and heat pumps.  
Pool Heaters
In short, gas heaters are most comparable to your home water heater. As your pool water passes through the unit, the heat exchanger heats the water and returns back to your pool. To operate the heater, you need access to propane or natural gas. Depending on where you live, one or the other might be readily available and/or much cheaper. In comparison to heat pumps, pool heaters have lower upfront costs. However, when you're shopping, don't forget to calculate the cost of propane or natural gas needed to operate the heater. The costs of gas might exceed the cost of a heat pump.
Still, pool heaters are perfect for pool owners who live in cold areas and are looking to keep their pool open all year. In fact, they are the quickest way to heat your pool. In most cases, you can raise your water's temperature by one to three degrees per hour. Additionally, if you own a pool and spa combo, a pool heater is the way to go. A heat pump doesn't have enough power to heat both simultaneously.
Also, if this is your first pool heater, determine if you have an underground gas line for installation. If you don't have an existing gas line, we recommend calling to get an estimate before purchasing your heater. Sometimes, the price of the gas line is more expensive than anticipated.
Manufacturers do not recommend homeowners installing pool heaters themselves. In fact, you void the warranty on your heater if you fail to hire a licensed pool technician.
A Pool Heater Is Perfect For:
Quickly heating your water
Colder temperature areas
Extending your swimming season a few months or keeping it open all year
Pool and spa combinations
Heater Related Content
Pool Heat Pumps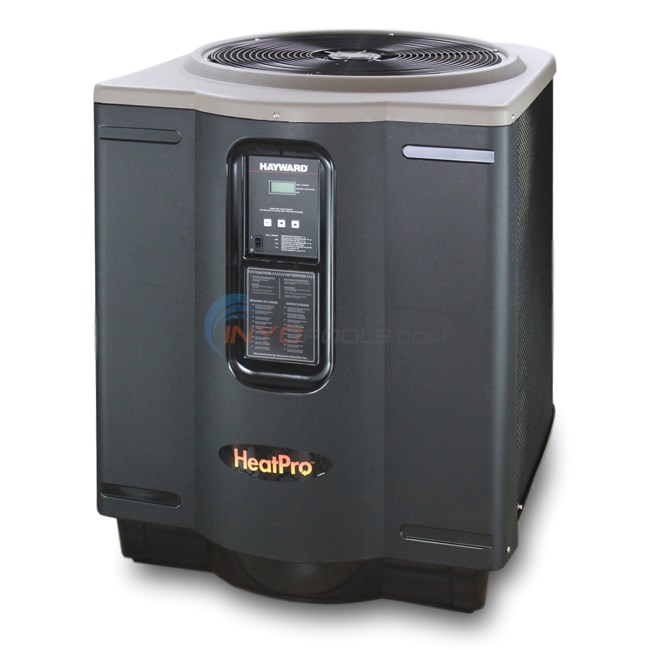 Pool heat pumps actually work in reverse of your home air conditioning unit. Unlike heaters, pool heat pumps use the ambient air surrounding the unit to heat your pool's water. In short, the unit transfers the heat from the outside air to heat the water.
This creates a problem for pools in colder areas. Once temperatures drop below 50 degrees F, the heat pump loses the ability to effectively heat your pool. So, if your area is consistently below 50 degrees F, a heat pump may not be the best option for you.
Generally, heat pumps are more expensive than heaters. However, the cost to run a heat pump is dramatically lower than the consumption of a gas heater. This makes heat pumps the most efficient way to heat a pool. In fact, the cost to operate a heat pump is only a fraction of the costs of propane or natural gas. Sometimes, the upfront costs of the heat pump are cheaper than the overall costs of a pool heater.
A Pool Heat Pump Is Perfect For:
Single body pools
Areas with warmer temperatures (greater than 50 degrees F)
Extending your swimming season a few weeks
Saving money on gas
Heat Pump Related Content
Pool Heater or Heat Pump?
Should you purchase a pool heater or heat pump?
Heaters and heat pumps are great solutions for swimming in a cold pool. However, before purchasing one, determine exactly what your needs are.
If you live in a colder climate and are interested in extending your pool season or simply looking to heat your water fairly quickly, we recommend a pool heater. Also, if you have a pool and spa combination, invest in a pool heater.
On the other hand, if the area you live in doesn't normally drop below 50 degrees F, like Florida, we recommend a heat pump. Heat pumps are great options for pool owners who simply want to keep their pools warmer during their normal swimming season.
Whether you choose a swimming pool heater or a heat pump, make sure it benefits your needs. If you have any other questions regarding heaters, heat pumps, and what may be the best option for your pool, sound off in the comments below.