Top
Model # NA450
Warranty Base Station 12 months; Turtle sensor 6 months
Product Description
Safety Turtle is the only safety device that protects your children from water accidents by sounding an alarm the instant he or she falls or ventures into the water.
Safety Turtle is an effective "last line of defense" to protect your children. Simply place the Turtle wristband around your child's wrist. If he or she falls into the water, a loud alarm will sound at the Base Station.


Unlike other pool alarms, Safety Turtle works with any water hazard: pool, hot tub, pond, river/lake, although some limitations apply to use with salt water.
No installation is required.
Safety Turtle is the only security system that provides uninterrupted protection of a toddler, at home and away.
Children love wearing "the Turtle".
Safety Turtle's unique portability allows for protection away from home.
Safety Turtle Sensors:
Waterproof and play tolerant
Non-replaceable battery lasts 3 – 4 years
150 - 200 ft. [45 - 60 m.] range from Base Station
Safety Turtle Base Stations:


NOT weather proof
Requires AC or external 12V battery input
Requires baby Turtle plug that comes with Safety Turtle sensor
Will respond only to a sensor that is the same color as inserted baby Turtle
Sounds and illuminates alarm
Does not support Secondary Alarm
Includes 9V AC wall adaptor [120V and 240V types available]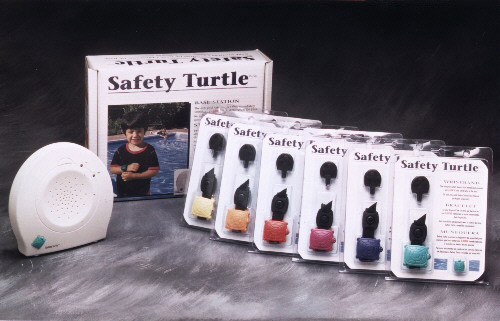 The Base Station should be placed inside the house, within 100 feet (30 meters) of the pool.
Turtle wristbands are avaiable in six attractive colors. Any number of Turtles of the same color can be used with one Base Station.
Please be aware that Safety Turtle is not suitable for use in sea water and its effectiveness in pools decreases when salt content exceeds 4000 ppm.