Top
Product Description
ATRIUM ABOVE-GROUND POOL
OUR PREMIUM ABOVE-GROUND POOL FEATURING A HI-TECH RESIN STRUCTURE THAT IS 100% CORROSION-PROOF!
Beautiful and contemporary style combined with high-tech materials and design to make the Atrium the finest above-ground pool on the market today. Designed and manufactured by one of the world's leading pool manufacturers (Vogue of Canada), this pool will provide many years of family fun. Resin pools like the Atrium are an improvement on the traditional steel wall pool. They incorporate unsurpassed beauty and strength in a corrosion-proof pool structure. If you want the ultimate in quality and style for your family, invest in Atrium's premium features:

HIGH TECH DESIGN AND CONSTRUCTION
– Atrium pools are constructed of advanced resin and composite materials that make the structure (top rails and uprights) super strong and also impervious to corrosion. From the internal ribbing in the top seat to the double lock system around the base of the pool, this pool is designed for rugged durability and many years of family fun. And, as an added bonus, the beautifully designed top rail and decorative seat cap give the Atrium its designer good looks.
100% CORROSION RESISTANT
– The Atrium's top rails and uprights are made of entirely non-corroding resin. Neither mid-summer sun nor driving rain and ice can cause these members to corrode as they can with a steel pool. Because resin is non-corroding by its very nature, there are no coatings to apply that can eventually chip, crack, or fail. Our Atrium pool gives you're the designer beauty that resin affords, plus the added benefit of a corrosion-proof structure that will outlast any steel pool available.

EASY INSTALLATION
– Invest in our premium Atrium pool this spring and get in on the family fun. Our pools are sold with a top quality 25-gauge J-hook liner (with the Rolling Rock designer pattern), widemouth skimmer, and return fitting. They are backed by a 30-Year Limited Warranty. Available in round and oval sizes – but hurry! Supplies are limited!
Make your new pool complete with our deluxe equipment and chemical packages.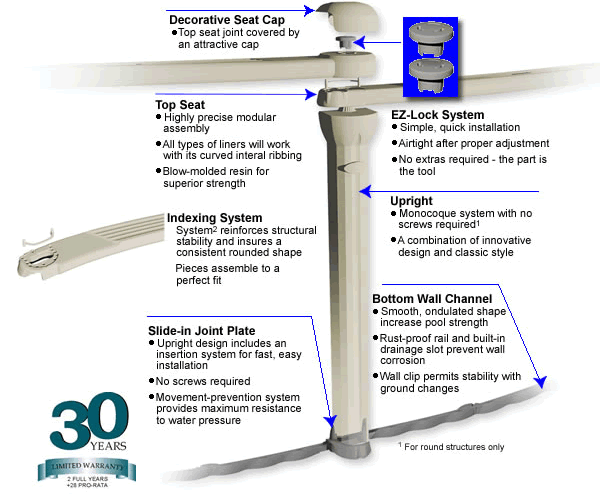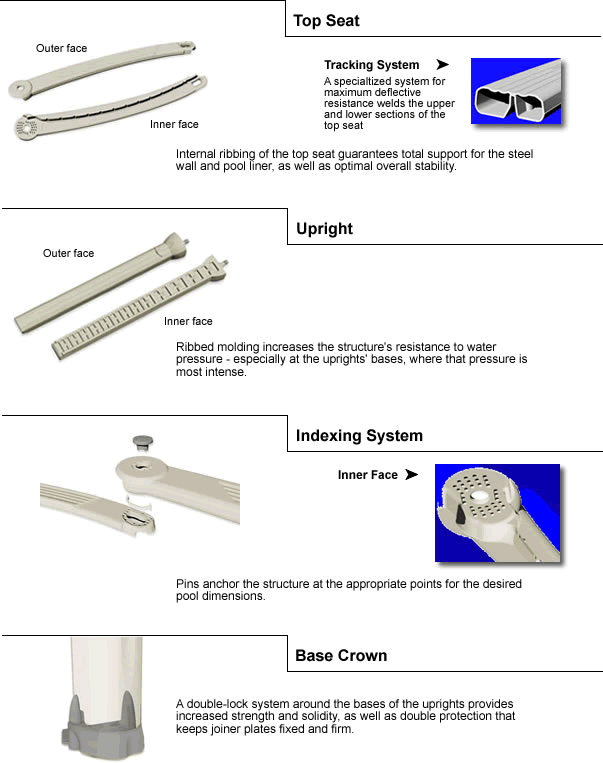 Click here for more Above Ground Pools