Hayward Super Pump Self Priming pump includes a high performance motor for quieter cooler operation. The exclusive sing-aside hand knobs that make the strainer cover removal easy. The cover is clear so you know when the basket needs cleaning. All components on the Hayward Super Pump are molded of corrosion-proof PermaGlass XL for extra durability and long life. The Hayward Super Pump suction lift up to 8' above the water level.

Hayward Super Pump Parts
Complete Super Pump Parts Breakdown
Hayward Super Pump Overall Dimensions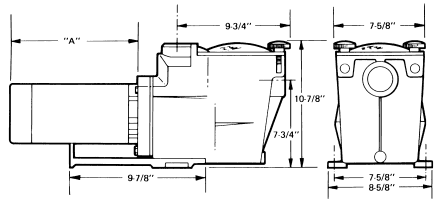 Hayward Super Pump Application:
In-ground pools of all types and sizes 100
In-ground spas
Hayward Super Pump Features:
Self-priming (suction lift up to 8' above water level)
Exclusive swing-aside hand knobs make strainer cover removal easy
Lexan see-thru strainer cover lets you see when basket needs cleaning
Super-size 110 cubic inch basket has extra leaf-holding capacity. Load-extender ribbing ensures free flowing operation
All components molded of corrosion-proof PermaGlass XL for extra durability and long life
Heavy-duty, high performance motor for quieter, cooler operation
Service-ease design gives simple access to all internal parts
Dual Speed Benefits:
The high speed and a low speed work together to maintain your pool.
The high speed is utilized for demanding conditions and periodic needs.
With the low-speed mode, expect up to 75% energy savings during normal operation.
Performance Data
Pump Output (GPM) vs. Total Resistance To Flow (Feet of Head)
Model No. Max Rated
20 ft
30 ft
40 ft
50 ft
60 ft
70 ft
SP2600X5
55
45
29
--
--
--
SP2605X7
67
58
47
31
--
--
SP2607X10
85
76
65
50
27
--
SP2610X15
97
90
80
67
50
10
SP2615X20
116
111
99
85
70
51
SP2621X25
109
109
104
95
84
69
Miscellaneous Notes
10 Year Warranty On Strainer Housing
1 Year Warranty on Motor