Top
Part # UST1102
Warranty 1 Year
Dimensions 14" L x 6.5" W x 6.5" D
Alternate Part #'s 168098, 177019, 186921, 54023, 5KC39PN2822BX, 5KC39PN2822X, 5KC49NN2135X, 7-184948-22, 8-168098-20, 8-168098-21, 8-177019-20, 8-177019-22, 8-177019-24, AST125, B228, B228SE, C1318, C48AA35A01, C48AB47A01, C48K2N117A9, C48K2N143, C48K2N143A3, C48K2N143A4, C48K2N143A5, C48K2N143A6, C48K2N143A9, C48K2N143B1, C48K2N143B3, C48K2N143C1, C48K2N143C1C, C55CXKMB-5012, c55cxkmb5012, EB228, EUST1102, HST110, JD10UP1, KC39PN2822BX, SP1607Z1M, SP1607Z1MBK, SP1607Z1MH, t55cxcmm-1407, UST1102, V54023, AOSUST1102
Product Description
Century UST1102 Details
Rugged and quiet Century brand motor (formerly A.O. Smith) designed for the demands of your pool. Sealed ball bearings, specifically selected for extended life and low noise, have lifetime lubricant to protect against heat and moisture. This quality pool pump replacement motor is used on Hayward Max Flo, Hayward Super Pump, Hayward Super II, Hayward Northstar and Jacuzzi Magnum pumps.
Voltage 115/230, Max Amps 115V = 15.0 230V = 7.5, Single Speed, Round Flange, RPM = 3450, Threaded Shaft, Frame = 56J
Don't Forget Your Tune Up Kit
Hayward Super Pump Tune Up Kit
Hayward Super II Tune Up Kit
Hayward Max-Flo Tune Up Kit
Jacuzzi Magnum Tune Up Kit
Compatible Pool Pump Models
Hayward Super Pump SP2607X10
Hayward Super II Pump SP3007X10AZ
Hayward Max-Flo Pump SP2807X10
Hayward RS Series RS750CA
Jacuzzi Magnum 1UMF-S
Note: NOT California Title 20 Compliant.
California Title 20 Compliant Options:
Motor Dimensions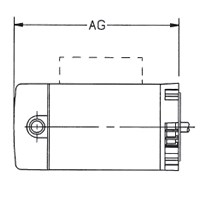 Motor Image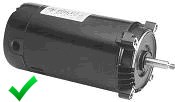 Product Specifications
Motor Name:
1 HP UST1102 Replacement Pool Motor
Commonly Used On:
Hayward Max Flow, Hayward Super Pump, Hayward Super II, Hayward Northstar and Jacuzzi Magnum
Notes:
NOT California Title 20 Compliant